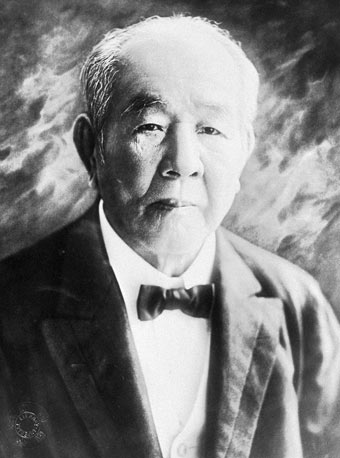 Eiichi Shibusawa
March 16, 1840 – November 11, 1931
From the end of the Edo period (Bakumatsu) to the start of the Taisho period, Shibusawa acted as a warrior for the Shogunate (Bakushin), a government official, and an industrialist.
Shibusawa was born to a wealthy farming family in Fukuya that dealt with sericulture and the manufacturing and sales of indigo balls. Also, from the end of the Bakumatsu period to the beginning of the Meiji period, he accompanied the Shogunate on inspections to Europe and broadened his knowledge of the West. In 1872, as a leading figure in the new Meiji government, he propelled the establishment of Tomioka Silk Mill with Hirobumi Ito. As someone who had detailed knowledge of sericulture, at the time of construction Shibusawa fulfilled a central role as a construction chief. The following year, when Tomioka's raw silk was highly rated at the Vienna World's Fair, Shibusawa was asked to compile a book on sericulture. The book was titled Sanso Shusei ("Collection of Knowledge on Silkworms and Mulberries") and Shibusawa concentrated his efforts on spreading Japanese raw silk far and wide. The first factory manager Junchu Odaka was Shibusawa's cousin, and taught him the Analects of Confucius when he was a young boy. Shibusawa went on to be involved in the founding and management of approximately 500 businesses, including the First National Bank and the Tokyo Stock Exchange, which led to him being known as "the father of Japanese capitalism." He also played a part in the foundation of the Nihon Renga Seizo KK, and was the founder of the Institute of Physical and Chemical Research (RIKEN).
The former Shibusawa residence (Nakanchi) built in 1895 is equipped with yagura (turrets) on the roof, and at the back of residence, the room that Shibusawa stayed in when he returned home still remains. Related facilities include the Seishido, which was built to commemorate Shibusawa's 70th birthday in Setagaya, Tokyo and then relocated to and restored in Fukaya, and the former brick production facilities of the Nihon Renga Seizo KK.
Shonii Rank, Order of the 1st Class, Viscount. Pen name: Seien.
Related Facilities
World Heritage Site Tomioka Silk Mill
Former Shibusawa Residence (Nakanchi)
Seishido
Nihon Renga/Hoffman Kiln
Shibusawa Memorial Museum